A horticultural WordPress website
The brief was to design, build and launch a website and create a company logo for How Green Nursery, an established family-run wholesale growing nursery, based in Hever, Kent.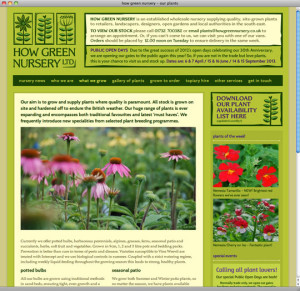 A traditionally run horticultural business, they felt ready to embrace modern technology and take their business forward with a website which would give both valuable information to existing clients as well as broaden their customer base and bring in new business.
They liked the idea of being able to handle the writing and uploading of news stories and images themselves on a regular basis and WordPress is the ideal platform, so I created the static pages and the template for the home page blog (nursery news). I'm thoroughly impressed with how they use this new found voice to keep in touch with their customers, it is proving to be a very popular read amongst their clientele.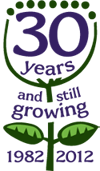 This was the first horticultural WordPress website I designed and built and it was a great experience to have such wonderful clients to make it for. They were really excited about the project and I'm glad to say were thrilled with the result.
Our working relationship has flourished and I have since gone on to design their annual catalogue, various flyers, adverts and pull-up banners. Celebrating their 30th Anniversary in 2012, I was also commissioned to design a logo to help commemorate this.
"Ginger & Fig has been a revelation to us as a business! Our marketing was virtually non-existent and needed to be brought forward. Natalie provided us with a fantastic logo that is now proudly placed on everything from letterheads to banners. She revamped our trade catalogue, completely changing the format to make it an attractive and user friendly aid for our customers. She has painstakingly designed, assembled and nurtured our website for us and the result is a fantastic site that we can update and refresh ourselves on a weekly basis. She continues to work with us and has just designed our new catalogue as well as moving our website forward in 2013. We'd be lost without her!"
Simon Sutcliffe, How Green Nursery